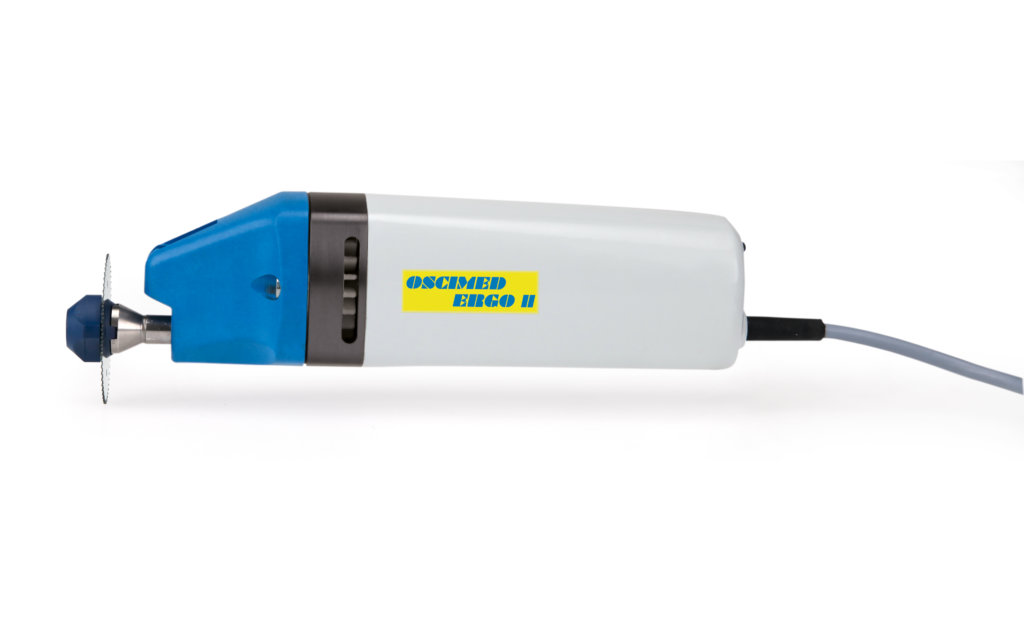 Ergonomic, lightweight, compact and easy to use
The OSCIMED ERGO II saw is compact and lightweight, and its ergonomic shape means you can work precisely and effortlessly, even with just one hand. Its robust construction includes a cooling fan for intensive use without overheating. The device operates on 24-volt low-voltage safety power and complies with the latest medical standards.
The tool-free blade changing system is practical and prevents injuries. A wide range of replacement blades is available for all kinds of bandages:
Standard stainless steel blades.
Hardened stainless steel blades for synthetic plasters with glass fibre.
Blades with titanium nitride (Tin) treatment.
Non-stick blades to prevent synthetic bandages from sticking to the blade.
OSCIMED dust extraction system
4 filtration levels, adjustable power and automatic start.
This hoover with adjustable suction power is mounted on 4 castors. Its robust, powerful construction includes a support for the saw.
HEPA-standard filters ensure 99.97 % filtration of particles as small as 0.3 microns. A power socket is provided for connecting the saw. The hoover starts automatically when the saw is switched on and stops a few seconds after the saw is switched off.
Power: adjustable from 300 to 1000 Watts
Noise level: 60-70 dB
Suction: 1800 mm water column, 40 litres / sec.
Suction hose length: 2.5 metres.
Stainless steel tank capacity: 20 litres.
Weight: 12 kg.