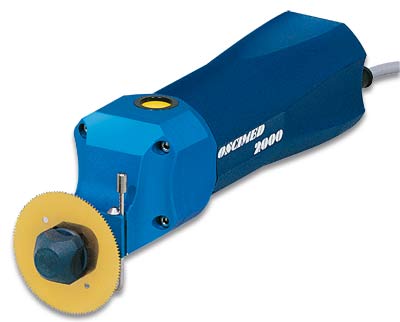 A high-tech plaster saw
OSCIMED 2000 is a high-tech plaster saw. This saw is equipped with a silent 100 W brushless motor.
Its oscillating motion transmission generates very little noise
(approx. 62 dBA) and weighing just 760 g, it is particularly easy to handle.
with one hand.
It is very popular with paediatric orthopaedic and hand surgery departments.
It can be fitted with an optional dust extraction system.
The tool-free blade changing system is practical and prevents injuries.
A wide range of replacement blades is available for all kinds of bandages:
Standard stainless steel blades
Hardened stainless steel blades for synthetic plasters with glass fibre
Blades with titanium nitride (Tin) treatment,
Non-stick blades to prevent synthetic bandages from sticking to the blade.