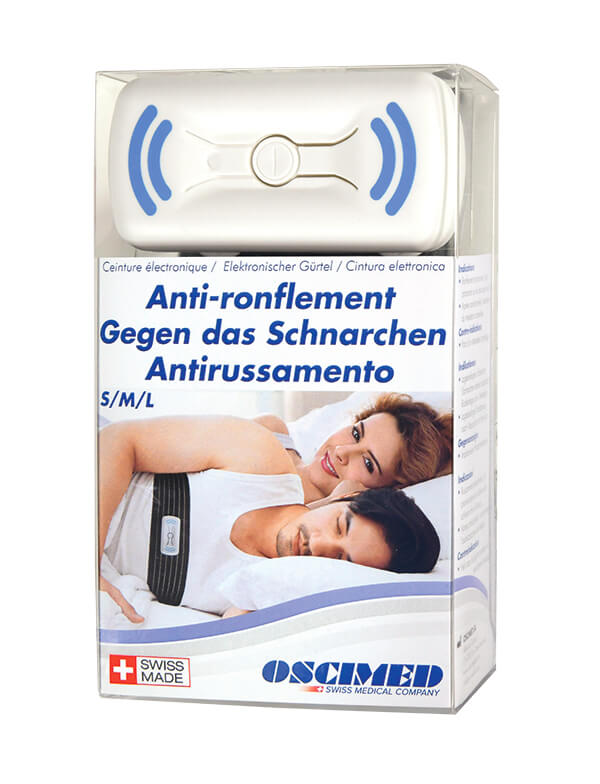 Positional treatment of snoring and apnoea
Non-invasive system
Available in two size ranges: S/M/L or XL/XXL
Snoring and sleep apnoea, the influence of posture
Most snorers snore more when they sleep on their back. In this position, the tongue rolls back and obstructs the airway.
How the anti-snoring belt works
The belt consists of an intelligent electronic learning device and a comfortable chest belt. The device emits a vibration that informs the user when they are sleeping on their back. With this warning, they can turn onto their side, stopping the vibrations and snoring. After just a few nights, the side position will be adopted naturally.
Anti-snoring belt, easy to use and comfortable
The flexible, anti-perspirant belt is worn around the chest or waist, over underwear.
The case has 2 clips so it can also be attached directly to underwear without a belt. It's easy to use, with adjustable vibration levels.
Indications
Positional snoring (more pronounced on the back than on the side)
Positional apnoea, doctor's authorisation recommended.
Contraindications
Wearing a pacemaker.
Latex allergy.
Package contents
An intelligent positional treatment unit.
An adjustable waist belt

Size S M and L (chest circumference 70-100 cm)
or

Size XL to XXL (chest circumference 100-125 cm)

Two adjustable fixing clips.
Two AAA batteries.
Instructions for use.