Thanks to its double joint and low, wide frame, this plaster table is extremely rigid. Used in conjunction with the optional jib, this table is at home in any plaster room.
The back and legs can be individually adjusted in all positions using gas struts. The leg sections can be adjusted separately to a downward angle of 90°.
The height of the table can be adjusted by means of a foot-operated or hand-operated electric jack.
The table is always fitted with castors and a central locking system that allows the wheels to brake simultaneously.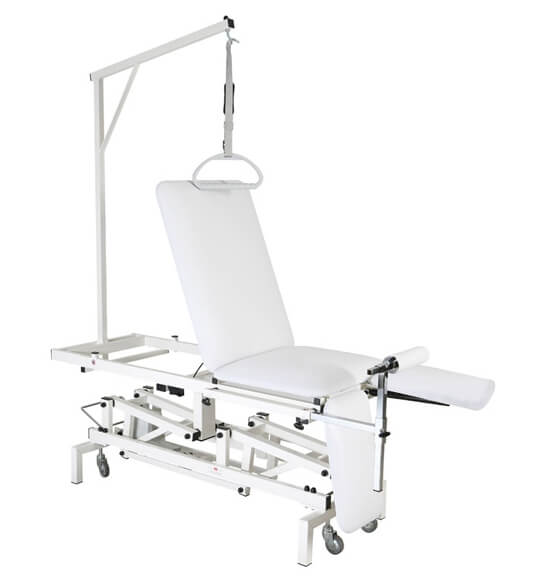 Product features
Dimensions:

185 x 60cm (without stem)
205 x 60cm (with bracket)

Adjustable height: 65 - 115cm
Capacity: 175kg
The frame is coated with epoxy paint
Low-maintenance joints and moving parts
All feet are adjustable to ensure stability on uneven floors.
Options
Stem
Padded knee support with adjustable horizontal tubes
CD - line coating
Bar-switch system Plaster E
Extra-wide/special width (70 cm)
Pedal switch + T-socket
Hand switch + T-socket
Other models of plaster tables are available, please contact us.
Documentation